Bobby Murdoch Phoenix CSC : Cead Mile Fáilte!
Bobby Murdoch Phoenix CSC is a supporters club for Celtic FC, of Glasgow, Scotland. But ye already knew that, if ye are a Tim.
All bhoys and ghirls are invited to join us in cheering on the Hoops every Saturday morning at Rosie McCaffrey's Irish Pub, located at 906 E. Camelback Road, in sunny Phoenix, Arizona. (If you are not from the States, trust us, it ain't Glasgow!)
Joke of the Week 2
Oscar Pistorius has sacked his legal team. He's hired Celtic as he heard they lost both legs and got a victory. (2014-0808)
One does not support der Hun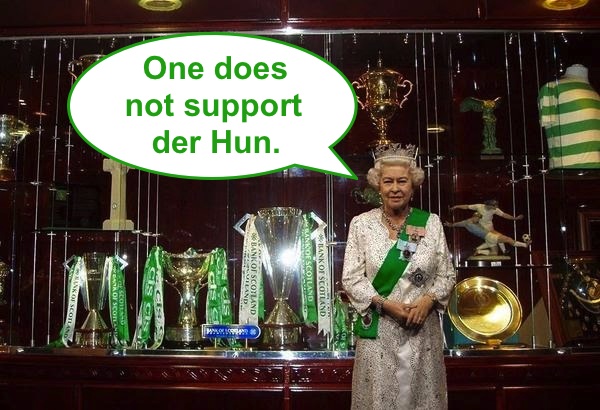 (2014-07-25)
Joke of the Week I
A guy walks into a bar with an octopus. He sits the octopus down on a stool and tells everyone in the bar that this is a very talented octopus. He can play any musical instrument in the world. He hears everyone in the crowd laughing at him, calling him an idiot, etc. The guy says that he will wager £50 to anyone who has an instrument that the octopus cant play.
The first one walks up with a guitar. The octopus starts playing better than Jimi Hendrix. So the man pays £50.
Another guy walks up with a trumpet. The octopus plays the trumpet better than Dizzie Gillespie. So the man pays his £50.
A third guy walks up with bagpipes. He sits them down and the octopus fumbles with it for a minute then sets it down with a confused look. "Ha!", the man said. "Can't you play it?"
The octopus looks up at the man and says, "Play it? As soon as I figure out how to get its pajamas off I'm going to shag it!" (2014-07-20)
Shaw Butte Hoops

(2014-06-29)


Tribute to Georgios Samaras, Celtic Legend

(2014-05-18)


Website Banner
Check out our banner up top of the page. I think you will agree that it is totally sweet. All praise and thanx goes to our artist Lyndsay Johnson. If anyone needs any graphic arts work done, e-mail the club and I will put you in touch. If you need any photography done, give her husband Wes a shout.